Join the continuing mission to explore all things Star Trek
FS Recruiting – Redshirts
Redshirts Always Die is on a continuing mission to explore all things Star Trek, to seek out new stories and new points of view, to boldly write what has never been written before.
The Star Trek franchise is continuing to grow, both in popularity and in number of series available, and no time has ever been more exciting than now to be a Star Trek fan.
Have you ever thought about being a writer?
Have you ever wanted to share your opinions or passion for Star Trek with others?
Do you enjoy reading, watching or thinking about Star Trek?
If you answered yes to any of these questions we want to talk to you!
Redshirts Always Die is looking to add several new contributors to our team and we're looking for new voices with differing opinions to fill those positions. Our goal is to provide analysis, opinion, news, and inspiration on all things Star Trek to our readers and we can't do it without a variety of different voices.
We're constantly working towards bettering ourselves as writers and building a team and community around Star Trek content both here on RedshirtsAlwaysDie.com and across social media with Facebook and Twitter.
No experience?
No problem, this is the perfect opportunity to learn and gain experience by joining a team of passionate writers who love Star Trek and love to share their knowledge and experience. We're happy to pass along ideas for new posts or feedback, opinions and tips for pieces you've already written.
What's involved?
All we want is for you to write about your interests, whatever part of the Star Trek universe is interesting to you is what we want to see, whether it's responding to things in the news, reviewing episodes, talking about opinions, making best of lists or just imagining where the universe may take us next.
Writers are asked to contribute 1-2 posts per week, but if inspiration strikes we always welcome more.
For most this is a hobby, something we do for the love of doing it and ultimately that's the best kind of team to join. If you enjoy it, and are successful it can absolutely lead to something more.
How do I sign up?
Applying is easy, just fill out an application, it just asks for a little information on you, your background and experience, if any, and asks for a pertinent writing sample.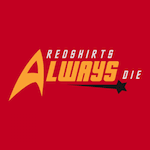 Want your voice heard? Join the Redshirts Always Die team!
Write for us!
Basically you're letting us know why you feel you'd be a good fit for our team. Just give it your best effort and from there we'll be in touch to talk a little more about the opportunity.